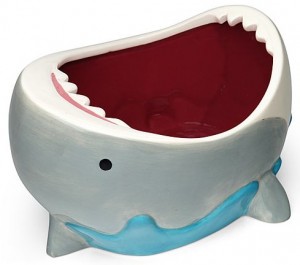 If you are having or going to a sea themed party this bowl is perfect, or that special time of year shark week this bowl is great, or for any occassion just to make a splash with a bite …. once again this is the bowl.
This bowl is very unique it features the design of a shark that looks like it is jumping right out of the water and by sticking your hand in the bowl it looks like it is biting you as the rim has teeth sticking out to form a sharks mouth.
Made from ceramic this shark attack bowl measures 6 inches by 4 inches by 6 inches and holds 20 fluid ounces, it is also dishwasher safe and microwave safe.
Be the talk of the party with your very own Shark Attack Bowl.