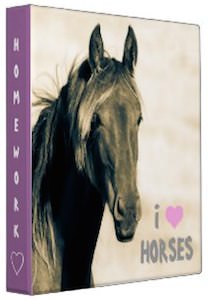 Binders for school or work don't have to be boring.
This binder you can personalize and has a picture of a horse on the front.
And you can change the text on the front, back and spine of this binder. So you can make it perfect for your needs.
Instead of having "homework" on the side it could have your name or your favorite subject for school.
This binder is made by Avery and comes in different thicknesses and ring size so that you can get the binder you really need.
If you love horses and need a binder then you should check out this I Love Horses Binder.