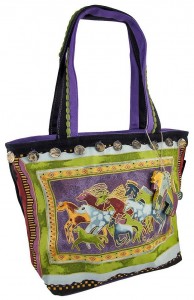 A horse is magical, majestic and a very lean power house, although it is most definitely not mythical there are some who have an idea of a mythical horse.
This is a wonderful tote bag that portrays the mythical horse, found on this tote bag is a herd of mythical horses running all together in colors that are magnificent and is on both sides of the tote bag.
With so much detail and exquisite art this mythical horse tote bag also offers an inside zipped pocket for smaller things and the big main pocket also has a zipper to close it.
Made from canvas this bag will be durable and has a water resistant interior with a reinforced bottom panel, measures 10.5 H x 11.5 W x 5.5 D inches and the tote bag handles are 20 inches long.
Have a closer look at this Mythical Horses Tote Bag.