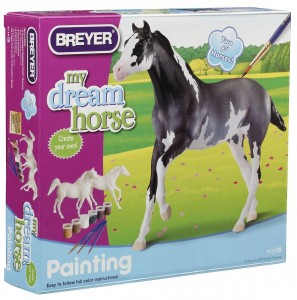 It's arts and craft time and what better way to put your great skills and steady hand than into a beautiful horse coat, making each horse your own.
This is a complete activity kit that has two white model horses that are ready for you to create your own horse colors and features, from beginner to fine artist anyone can enjoy this set.
The horse activity kit includes 6 paints, 3 brushes and a very well detailed instruction booklet to help you paint that perfect horse aswell as 2 unpainted model horses.
Get creative and inspired with the Horse Paint Your Own Horse Activity Kit.