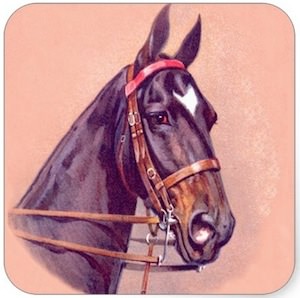 Are you looking for the perfect stickers with horses on it?
Then what do you think of this square sticker that shows a horse in a real classic way.
And this is not just one sticker this horse comes on sticker sheets of 20 or 6 stickers. Why 20 or 6 you wonder?
Simple the horse sticker comes in two sizes 1 1/2 inch and 3 inch.
So if you just want to decorate something with a nice sticker of a horse or if you are want to give these stickers at presents to kids then you found the perfect horse.
The horse really looks interested in what is happening around him and the salmon color background makes it easy to use with almost anything.
Horse lovers come check out this Horse Sticker.