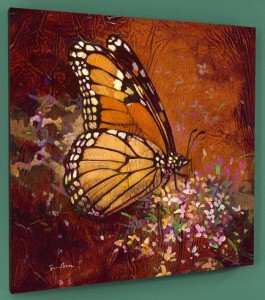 Whenever it is a beautiful day out you will most definitely find the Monarch butterfly out seizing the day.
This is an amazing print of a painting done by Simon Bull titled " Bless The Day " features a beautiful Monarch butterfly grazing on a bunch of colorful wild flowers, with an accommodating background to bring out all the beauty and elegance in the Monarch butterfly.
Measures 33″ x 33″ x 1.5″ and is a giclee print on canvas, A Limited Edition print titled " Bless The day " that is numbered and signed by Simon Bull includes a certificate of authenticity and is ready to hang.
Get yours before they are gone, check out the Butterfly Bless The Day Signed Print.