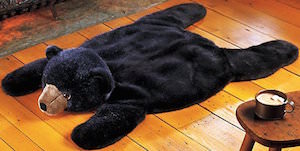 Just imagine the kids room with a bear rug.
Ok not a real bear of course but how about a plush black bear like this one.
The black bear rug is soft and cuddly and great for lying on the ground on with the big bear head sticking out.
Kids and adults will love this rug just because it's cute and great for cuddling. The bear rug is 20 x 38 inch and that is the perfect size for around the house without being in the way.
A black bear rug like this one is a lot better then a real bear and kids will enjoy it more to. So lets not wait any longer come and get your Plush Black Bear Rug.