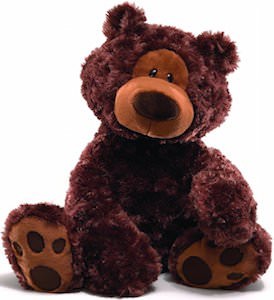 Are you looking for the perfect Teddy Bear?
Gund made this one specially for you. Philibin the chocolate brown teddy bear.
This brown plush bear is 18 inch tall and cute, soft and curious.
Made for people 1 year and up this plush bear can be loved by many people from babies to old people all will love the soft bear.
And as Philibin is made by Gund you know that it is a quality product made by a company that makes toys for more then 100 years.
This bear with his curious expression on it's face and big paw printed feet will be loved by young and old.
So lets surprise someone with this Plush Chocolate Colored Teddy Bear.