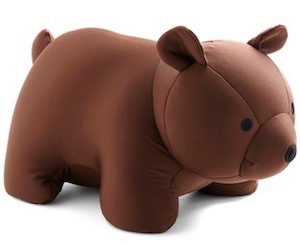 Bears and sleep! They go together like peanut butter and honey! Like nap and time! Like hiber and nation! Well, you get the idea!
When you are travelling there is nothing more beneficial to the quality of your adventures than being well rested. This little bear pillow is just what you need to ensure this happens! After a trek in the woods, enjoy the comfort that this microbead cushion provides. Also, when travelling by car, coach, train or plane, unzip his belly and utilize the hidden neck rest!
Our friend the bear measures approx. 13.5×6.5×7.25 inches, with the inside cushion measuring 7×12 inches. Simple lines and beautifully stitched creates great personality. It's not a teddy, but it is nap ready. Poly-spandex blend exterior. Polystyrene microbead fill.
Rest your head on the back of this lovely brown bear, and dream peacefully of your adventures past, present and future. Pack smart and remember this guy doubles as a travel cushion with hideable neck rest!
Grab your bear necessities, get your Brown Bear You Go Travel Pillow.