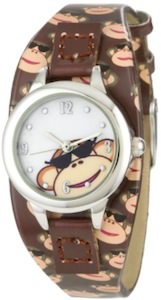 Even if you kid can't tell time yet this wrist watch may teach it.
This monkey watch is made for kids ages 5 -12 and they will love the cool monkey watch.
The watch has a strap that is covered with pictures of a monkey and then on the watch face the monkey also peeks his head up. And as this monkey wear sunglasses he just has to be cool and kids like cool monkeys.
This monkey watch has 3 hands so that you can see hours, minutes and seconds.
Lets make a little human happy with their first Monkey Wrist Watch.