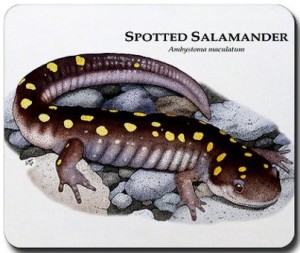 This useful spotted salamander mousepad makes a striking conversation piece!  The full color representation of the fine specimen, "Ambystoma maculatum" looks like it might crawl right off the cloth topped mousepad to run around your computer!
Spanning diagonally across the cloth top of the pad, this piece has exquisite detailing on the skin of the rendered amphibian.  The shaded imagery of the rocks beneath it lend further to a three dimensional impression. A geek chic accessory sure to delight salamander fans, and stylish desk jockeys alike!
Come and get your Salamander Mousepad.